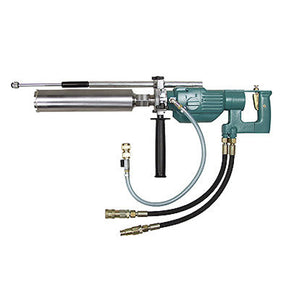 **All CS Unitec tools ship within 7-10 business days if not in stock. Please call for current availability.**
The CS Unitec model 2 1317 0030 core drill is a powerful 3 speed hydraulic diamond core drill for holes up to 6" diameter. The core drill is ideal for heavy-duty wet drilling in concrete, reinforced concrete and asphalt. 
This powerful wet diamond core drill is designed for fast, accurate drilling in concrete, reinforced concrete and other masonry materials. Use it hand-held up to 3" diameter or mounted in a drill stand up to 6" diameter. Sealed 3-speed gearbox with permanent oil bath lubrication.
The hydraulic motor operates at 2000 PSI oil pressure. The required flow is 6 GPM. Additional flow is automatically bypassed back to the tank up to a maximum input of 13 GPM.
The hydraulic core drill incorporates a safety slip clutch and water swivel. 5/8" x 11 UNC and 1-1/4" x 7 UNC and G 1/2" connecting threads are standard. 1/2" hose diameter with 3/8" FF (HTMA) couplings.
Holes up to 6" diameter mounted in a drill stand
Use hand-held up to 3-1/4" diameter or rig-mounted
Mechanical slip clutch design
Load Speeds: 380 / 900 / 1800 RPM
3.6 HP (2.8 kW)
Motor Weight: 16 lbs.
For concrete, reinforced concrete and masonry materials
Ideal for professional drilling contractors and underwater applications