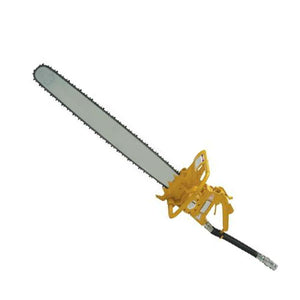 The CS11 is an extreme duty hydraulic powered chain saw for cutting all types of wood structures underwater – including bridge pilings, pier and dock timbers. Its robust design and high torque gear motor provides divers instant chain speed to cut through the toughest timbers with ease. The power to weight ratio is significantly higher than any other wood cutting chain saw and is available with bar lengths up to 36".
Chain & Bar Sold Separately.
Download the CS11 Spec Sheet!
Specifications:
Cut Capacity: 24", 30" & 36" / 61, 76, 91 CM
Chain Type: 3/8" Pitch
Circuit Type: Open Center
Flow Range: 10-14 GPM / 38-53 LPM
Optimum Flow: 14 GPM / 53 LPM
Working Pressure: 1500-2000 PSI / 105-140 BAR
Full Relief Setting: 2250 PSI / 155 BAR
Motor Speed @ 12 GPM: 5295 RPM
Chain Speed @ 12 GPM: 2591' per min / 13.16 m/s
Weight (less bar/chain): 17 LBS / 7.7 KG
Length (less bar/chain): 17" / 43 CM
Width: 9" / 23 CM
Hydraulic Ports: -8 SAE O-Ring
Comes With Couplers: Yes
Comes With Whips: Yes