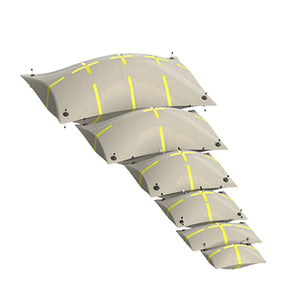 When you need to float an object in extremely shallow water, use Subsalve's Hybrid pillow-shaped Enclosed Flotation Bags in any position—upright or flat, outside or inside of structures—for vessel salvage, auto-recovery, pipeline, and cable installation and emergency flotation for ships, aircraft, submersibles and ROVs. The bags are made out of a urethane-coated nylon which is high strength and heady duty. The bag is UV resistant and is also resistant to most petro chemicals. The benefits of using a Subsalve lift bag are being a fraction of the cost of a barge or crane, easy for a single diver to use, easy to use in remote locations, deployable from small craft, and defult open. 
**Lead times are based on Subsalve USA's availability. If not in stock, normal lead time is 3-5 days. Please call for current availability.**
| Model | Lift Capacity | Height | Length | Packaged Cubic Dimension | Weight |
| --- | --- | --- | --- | --- | --- |
| EFB-200-H | 220lb | 29in | 38in | 15in x 11in x 7in | 12lb |
| EFB-500-H | 550lb | 32in | 51in | 17in x 12in x8in | 20lb |
| EFB-1000-H | 1100lb | 44in | 51in | 18in x 13in x 10in | 32lb |
| EFB-2000-H | 2200lb | 55in | 60in | 20in x 15in x 9.5in | 50lb |
| EFB-4000-H | 4400lb | 69in | 75in | 22in x 15in x13in | 70lb |
| EFB-6000-H | 6600lb | 76in | 112in | 26in x 18in x 13in | 90lb |
Boat hoist
They worked great! Still had to move the hoists into about knee deep water but after that they worked great. The only problem I had was unhooking them after we got the hoists positioned but we made it work with some rope tied to a pin that held the bag to the hoist.