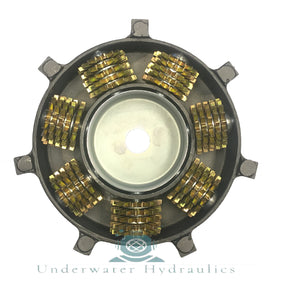 The Swirl-Off barnacle buster is designed to be used to remove thick buildup of mussels, barnacles or other encrustation from steel, concrete, pilings, seawalls, bulkheads and ships. This barnacle buster has 5 heavy duty cutters versus the standard 7 thinner cutters.
Looking for the replacement heavy duty cutters? Click here!
As the tool moves across the surface, the outside knocker bars shatter barnacles and other heavy growth. The rotating hardened steel cutters follow up with a chipping and scraping action which removes the remaining material, leaving a clean surface. Water passing through the tool keeps the cutting wheels clean. The tool is ecologically safe since it adds no harmful chemicals to the environment. Rotary action displaces water creating a vacuum under the tool. This results in Barnacle Buster being pressed and held against the ship or work surface. Slight pressure on either side of the tool allows the operator to guide it in any direction.
It is furnished with a one piece stainless steel housing and attached steel knockers. The standard unit comes with plated hardened steel cutters. It is also available with a heavy duty quick change assembly. Unit comes with a 5/8" – 11 threaded center hole (14mm available) which attaches to standard pneumatic or hydraulic powered tools. 1,000 to 2,000 RPM is suggested for underwater use.